Understanding How to Grow Marijuana
Deep Water Culture Hydroponics
Before learning how to grow marijuana starting your cannabis grow, you must decide if you want an indoor growing system or an outdoor growing system. When it comes to indoor growing mediums, DWC. Or deep water culture, is a type of hydroponic growing method where each plant's roots are growing in a tub of water.
One of the main benefits of a DWC system is that it promotes faster growth. Unlike growing cannabis in soil, roots grown in DWC don't need to expend energy to search for what the plant needs. Nutrients are easily accessible by the roots.

Plants have an unlimited supply of oxygen because of added oxygen from the air stone in the reservoir. Since the plant is spending less energy finding what it needs to grow, it channels that energy to plant growth. In addition, with proper guidance and a quality set up, DWC. Takes less time to maintain than an average grow.
When implementing a DWC system, a bubblier bucket reservoir system is recommended.
A bubblier bucket reservoir is a simple system that suspends the plant's roots in a highly oxygenated nutrient solution. The roots are submerged in the nutrient-water solution in the bucket and are then replenished, as needed.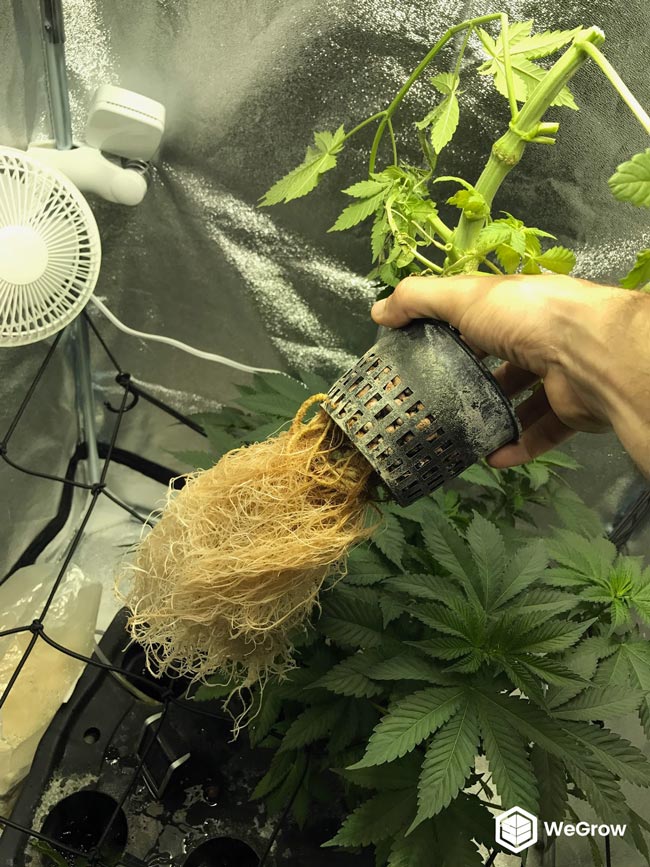 The most important growing tip is to check on your cannabis plants daily. As with many processes, the easiest way to fix a problem is in the beginning stages. If something is wrong with your plant in a DWC system. Your first step in remedying your plant should always be to change out the reservoir. It is common for root rot to occur when roots are consistently in water, therefore. It is imperative to establish a preventative routine of changing out the reservoir every seven days. Adding beneficial bacteria to the reservoir is also effective in avoiding and combating root rot.
Keeping air and water temperatures under control are also very important measures to take. Air temperature should be 75-85°F when the lights are on and will drop by 10 degrees when the lights are off. Water temperature should remain at a constant temperature at all times. Your empty portholes can be used to change out the reservoir water by using a pump. allowing you to easily inspect what's going on inside.
A common mistake to avoid when growing with DWC is not checking the pH levels of the water. This is important for any grow! Dirty reservoirs or not using an aerator 24/7 are two additional crucial mistakes. As roots must have excessive oxygen so they don't drown. While some people like to maintain a completely sterile reservoir. with just nutrients and water and no traces of anything alive. There are some good sources of beneficial bacteria that can be added. Bad bacteria is obviously, bad, but we wanted to emphasize the possibility of bacteria that can benefit your grow. To avoid potentially harmful bacteria, be proactive about changing the reservoir water.
In addition, having too many plants in one reservoir can lead to problems such as white powdery mildew. Don't cramp your plants, instead, we recommend growing one plant per reservoir to allow the roots to spread out. And give the leaves and buds more space.
Setting up a water transfer pump for this task can speed up the process. For best results, learn how to flush your cannabis plants.
Flushing your plants by removing any nutrients and salts improves the quality and taste of your final product. By simply draining your bubblier bucket reservoir and adding plain (pH neutral) water. for two-three days before harvest, the plant will use all its existing nutrients contained in the stems, leaves and buds.
Growing Cannabis with Coco Coir.
Coco coir is another great growing method, especially for beginners. It provides the ease of soil gardening with the rapid growth of hydroponics by using fibrous coconut husks. instead of a potting mix. Compared to just soil growing, it absorbs moisture much easier. allowing plants to take up more nutrients and retain oxygen more efficiently because of its lighter texture. It also provides a forgiving buffer by reducing shock stress when human errors are made, such as adding too many nutrients, a common mistake.
Coco is much easier to flush than DWC because you aren't changing an entire water reservoir. In fact, watering coco coir is very versatile. You can use a flood and drain hydroponic system, which is when the nutrient system temporarily floods from beneath the plant. controlled by a pump and timer, instead of dripping from above like most hydroponic systems. You can also use the most recognized top water to waste system. which is simply taking a water pail and watering your plant until water comes out of the bottom of the pot.
How to Grow Cannabis?.
Welcome to  Cannabis Growing Guide.
There are few things in life as good as your own weed. Grown by yourself at home out in the garden and indoors in pots.
Most people think of gardens as a seasonal, yearly project. but it is actually less time consuming and more rewarding to keep the garden going year round. If one were to attempt to grow year round, indoor gardening techniques will be needed at least during winter to keep the garden producing. You will have herb fresh at all times, there is no worry of mass storage thru the winter and spring. it requires less space, and once established, requires only minimal attention every week to keep it producing at optimal levels.
The best part of being a gardener is it connects you to the earth. It connects you with nature, and is spiritually enriching. Try giving your plants energy by beaming good thoughts and energy at them every time you visit them. I find this helps me as much as it helps them. my plants seem to respond to it favorably.
Good luck!